Maxwell MRS-6 Primary Liquid Filled Tube Seal (EFR Rim Seal)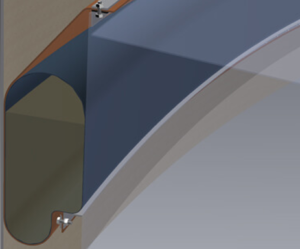 Our MRS-6 Primary Liquid Filled Tube Seal is a liquid-filled rim seal, which consists of a tough fabric band or envelope filled with a liquid, or it may consist of a flexible polymeric tube 200 to 250 millimeters (8 to 10 in.) in diameter filled with a liquid and sheathed with a tough fabric scuff band. The liquid is commonly a petroleum distillate or other liquid that will not contaminate the stored product if the tube ruptures. Liquid-filled rim seals are mounted on the liquid product surface with no vapor space below the seal.
The most commonly used Maxwell Liquid Mounted Seals either normally used in a combined configuration are:
• MRS-6 Primary Liquid Filled Tube Seal
• MRS-7/750 Primary Foam Filled Seal
All Maxwell EFR Rim Seals can be combined with;
• MRS-20S Secondary Compression Plate Seal
• MRS-25 Weather Shield
Finally, when the local requirements are pushing local terminals or refineries to add a tertiare or tertiary or triple rim seal, on request these extra rim seals can be provided by Maxwell.