Maxwell Floating Roof Leg Tube Transition Seal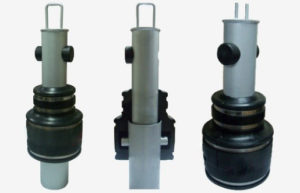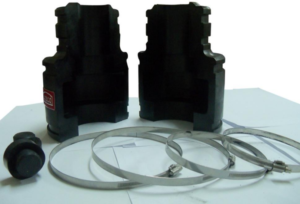 Since Maxwell believes that all together, we can be beneficial to a healthier environment for both human, animals and vegetation, just by implementing our years' experiences from the past with today's research and development.
Sealing the support legs of the floating roof ensures the operational function of the legs sliding in the sleeves. Rainwater ingress will be eliminated and reduction of emission of hydrocarbons can be realised.
The Leg Tube Transition Seals are used on open-top storage tanks, often in situations where mixers are used. It reduces emissions from roof legs considerably, nowadays developing into a standard for tanks storing volatile hydrocarbons. It also ensures that the support legs remain operational by preventing rainwater ingress.
The locking pin can completely be surrounded by the Leg Pin Hole Seals, preventing the support legs from dropping down as a result of pin displacement caused by mixer vibrations.
The Maxwell Leg Tube Transition Seals are designed to prevent product loss caused by vapors escaping from floating roof support legs. Leg Tube Transition Seals also serve the important function of allowing tanks to meet environmental regulations. The interior and exterior of the Leg Tube Transition Seals work together to provide resistance against product loss as well as environmental effects from outside the tank.
The Leg Tube Transition Seals consists of two circular parts, manufactured from flexible material, when combined surrounding the support leg and a part of the leg sleeve. The contact surfaces of both parts fit together with tongue and groove connections; the cylindrical surfaces have a sealing profile on the inside. Stainless steel hose clamps connect both individual parts against one another and around the support leg and the leg sleeve. The Leg Tube Transition Seals are easy to install and easily removed in order to either pull or push the legs to another position, subject to operational requirements for the tank involved.
The Leg Tube Transition Seals are made from EPDM rubber, so resistant to hydrocarbons, chemicals, ozone and fully weather-proof.
Models
The most commonly implemented Maxwell Roof Leg Support Emissions Control Devices are:
• Leg Tube Transition Seals
• Leg Pin Hole Seals
• Leg Socks